Digital Belt and Road Program Opens its First Centre of Excellence in Bangkok
The Digital Belt and Road Program (DBAR) inaugurated an International Centre of Excellence on Integrated Climate Change, Disaster Risk and Environmental Research and Capacity Building in Bangkok (ICoE-Bangkok), Thailand on February 27, 2018. It is the first Centre of Excellence to be established as part of a network of eight centers of excellence planned to be built in Helsinki, Finland; Potenza, Italy; El Jadida, Morocco; Peshawar, Pakistan; Moscow, Russia; Columbia University, USA; and Lusaka, Zambia.

The ICoE-Bangkok was established in partnership with four Bangkok-based institutions including the Asian Institute of Technology, Geo-Information and Space Technology Development Agency (GISTDA), National Research Council of Thailand (NRCT), and Ramkhamhaeng University Center of Regional Climate Change and Renewable Energy (RU-CORE).

A special seminar was organized to have an in-depth discussion on the initiation and implementation of the DBAR ICoE-Bangkok objectives. Prof. GUO Huadong, Chair of DBAR, signed a Memorandum of Understanding with NRCT Secretary-General Sirirurg Songsivilai. According to the agreement, the ICoE-Bangkok will promote international cooperation and the exchange of expertise and technology. The centre will also create a satellite database for environmental protection, risk reduction, food stability, urban development, and the preservation of coastal resources and world heritage sites.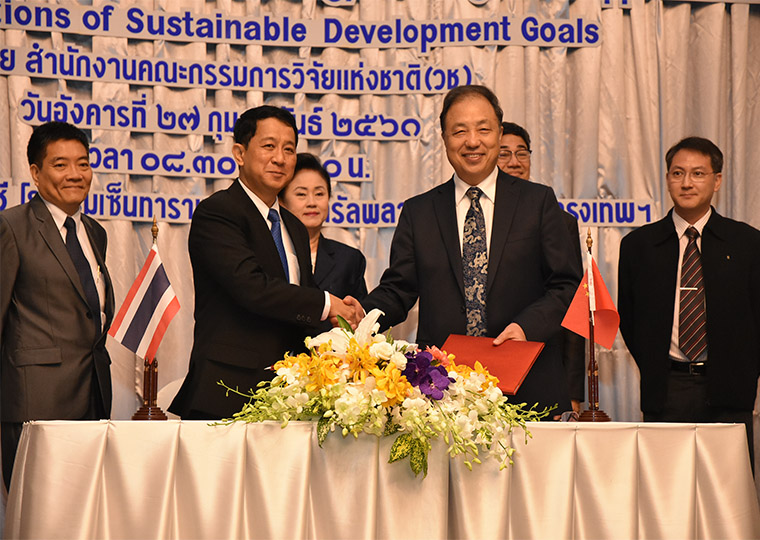 DBAR was launched in 2016 by scientists from Chinese Academy of Sciences. It is an international research program that aims to promote international cooperation and integrates Earth observation science, data, technology, and applications to address environmental change and achieve the SDGs in the Belt and Road region. DBAR's goal is to build upon the diverse Earth observation capacities in the Belt and Road countries in Asia, Europe, and Africa through comprehensive and well-funded action.