National Conference - Thailand and the Sustainable Development Goals: Learning and Boosting Implementation Together
The first session of Thailand's National Conference on the SDGs was held on 27 May 2021, attracting 150 online attendees from 35 countries. The Digital Belt and Road (DBAR), through the DBAR International Center of Excellence – Bangkok, is jointly sponsoring the Conference along with the National Research Council of Thailand (NRCT), Office of the National Economic and Social Development Council (NESDC), United Nations ESCAP, United Nations Thailand, Mahidol University, and Asian Institute of Technology (AIT).

The five aims of the Conference are to: (i) raise awareness among Thai stakeholders about the 2030 Agenda and its SDGs especially concerning follow-up and review mechanisms; (ii) review the state of Thailand's implementation of the SDGs; (iii) identify Thailand's priority SDGs, current data gaps, and potential approaches for strengthening follow-up and review, including proxy indicators and data sources; and (iv) capture lessons learned from Thailand that can be shared regionally and globally.

Professor Huadong Guo, Chair of DBAR, provided introductory remarks. He stressed the importance of science to inform policy and decisions and highlighted the contribution of big data and Earth Observation data to finding solutions. He also stressed the importance of identifying implementation strategies for the 2030 Agenda and the need for extensive coordination and cooperation for follow-up and review processes. At last, he introduced the International Research Center of Big Data for Sustainable Development Goals, which will be officially inaugurated in September 2021, with the aim to facilitate both regional and international actions towards SDGs.

Professor Guo was joined in the introductory session by Dr. Wiparat De-ong, Executive Director, NRCT; Ms. Gita Sabharwal, UN Resident Coordinator for Thailand; Mr. Nadhavathna Krishnamra, Director General, International Organizations Department, Thailand Ministry of Foreign Affairs; and Dr. Thuttai Keeratipongpaiboon, Director, International Strategy and Coordination Division, NESDC. The introductory speakers identified several issues, such as key challenges facing Thailand in achieving the SDGs; data availability, collaboration, and use of technology and digitization; and the potential for Thailand to serve as a model for sustainability in the Asia-Pacific region. Dr. Tutthai described Thailand's SDG roadmap and stated the Conference would be an important step in accelerating implementation of the 2030 Agenda in Thailand.

Ms. Gemma Van Halderen, Director of the UN ESCAP Statistics Division, shared a review of the state of Thailand's and the Asia-Pacific region's implementation of the SDGs. She reported that neither the region nor Thailand are currently on track to meet the Goals.

Speakers from four sectors of society–private sector, academia, civil society, and the United Nations–shared their perspectives on SDG implementation in Thailand. Ms. Thanyaporn Krichtitayawuth, Executive Director, Global Compact Network Thailand, reported on the organization's sustainability efforts, including a new initiative called Climate Action Accelerator, which has potential to address selected SDG gaps in Thailand. Ms. Ravadee Prasertcharoensuk, Director, Sustainable Development Foundation, shared perspectives from civil society, including the need to give adequate attention to the marginalized in society. Professor Mario Tabucanon, Adjunct Professor, United Nations University Institute for the Advanced Study of Sustainability, and Dr. Allan S. Tabucanon, Director, Research and Academic Services Center for Environmental Assessment and Sustainability Faculty of Environment and Resource Studies, Mahidol University, provided information on outreach and other essential actions their respective institutions are undertaking in support of SDG implementation. Mr. Renaud Meyer, Resident Representative UNDP Thailand, highlighted his organization's support for localization of the 2030 Agenda, the SDGs, and leaving no one behind.

Finally, participants were asked to list their choice for Thailand's highest priority SDGs. Several respondents opined that prioritizing the SDGs was difficult because they need to be implemented as an integrated whole. Other responses were spread broadly among the 17 SDGs, with SDG 13 (Climate Action), SDG 14 (Life Below Water), SDG 16 (Peace, Justice and Strong Institutions), and SDG 17 (Partnerships for the Goals) receiving more priority preference from participants than the other SDGs.

Session 2 of this conference will be held on 2 June 2021.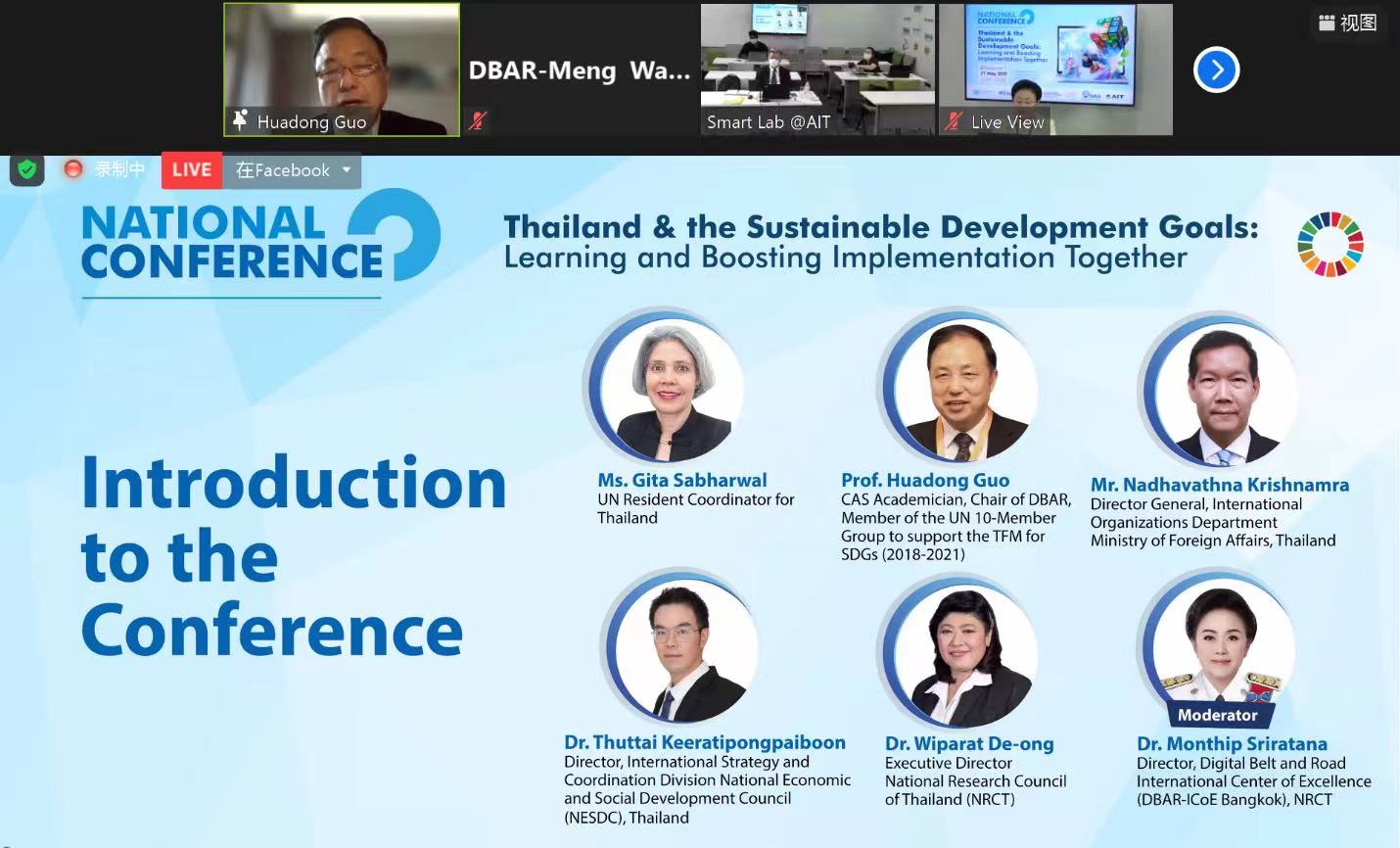 Prof. Guo delivers introductory remarks